From April 2018 this will become Climbing Wall Instructor.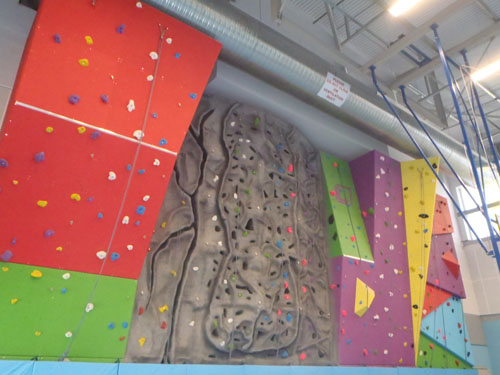 Remit, Syllabus and Prospectus
The scheme is for climbers who are in a position of responsibility when supervising climbing activities on indoor or outdoor climbing walls and towers. This includes a wide range of structures utilised for these activities which will be referred to throughout these introductory notes as 'walls'. It is primarily concerned with ensuring good practice, leading to the safe enjoyment of climbing activities, and to an understanding of the sport. It covers the supervision and management of activities such as bouldering, the teaching of basic movement skills and roped climbing, excluding the teaching of leading. Completion of a training course alone, without passing the assessment course, should not be considered as a qualification in itself, although it may be of considerable personal benefit to the trainee. An additional module is available for those candidates who wish to supervise abseiling and top-roping activities on those walls which have top access.
This scheme has been designed to provide a level of basic competence for those who are in a position of responsibility during climbing activities at walls. Whilst the award does include a measure of personal competence it is not designed as such a programme, and should not be used as either an entry requirement or measure of suitability for individuals who wish to climb on climbing walls.
It is valid throughout the UK.
For the purposes of this scheme, a climbing wall is:
An artificial structure, designed for the purpose of being used for climbing activities (this includes outdoor towers at Scout Camps and mobile climbing walls) .
Indoors or outdoors .
A structure which has safety equipment such as top anchors in place and is maintained through a management regime.
It is the duty of the employer or organising authority to decide whether a leader possesses the personal attributes needed to take responsibility for the appropriate care and management of participants and for ensuring that Child Protection requirements are met. It is the combination of technical skills, breadth of experience and personal qualities that form the basis for effective supervision. This scheme assesses the technical skills and experience; the employer or organising authority must gauge the personal qualities.
It will be the responsibility of the employer or organising authority to develop management strategies if wishing to deploy Award Holders beyond the terms of this remit.
The scheme does not cover:
The rock climbing skills needed to climb and / or supervise others on natural crags (these are covered in the Single Pitch Award scheme)
Multi pitch rock climbing skills
The teaching, or supervision, of leading
The assessment of candidates' personal qualities.
A Disclosure and Barring Service (DBS) check
If you are in doubt about a particular venue then qualified Mountaineering Instructors (MIA or MIC assessed), or British Mountain Guides, or the officers of Mountain Training are the appropriate people to approach for advice.
Experience Requirements Mountain Training Climbing Wall Award Scheme
Please consider the advice given below. You should note that the figures given are absolute minimums and most successful candidates will have well in excess of the experience outlined:
To be involved in the CWA scheme you need to be a climber and have an interest in the supervision of novices in the activity. A minimum of 6 months personal climbing experience is required.
Before attending a training course you must first register with one of the four Mountain Training Boards. They will provide you with an on-line logbook and your personal details will be entered on the national database.
Before attending a training course you must have climbed on artificial walls on at least 15 occasions, visited at least 3 different walls and successfully led climbs. Without having done at least this amount of climbing you are unlikely to play a constructive part on the course or be able to make best use of the training.
Between training and assessment you must consolidate new ideas and techniques and gain additional climbing experience. Your trainer will advise you about the amount and nature of the personal climbing and supervising experience you should gain.
Candidates should not present themselves for assessment until they have: 1. led a minimum of 40 climbs. 2. assisted with the supervision of climbing for approximately 20 sessions at a variety of facilities.
Mountain Training Climbing Wall Award CWA Syllabus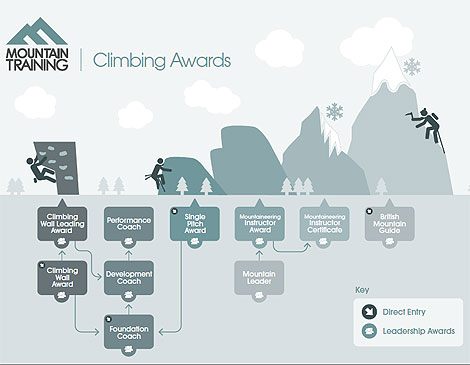 Download infographic (pdf)