Formally the Single Pitch Award SPA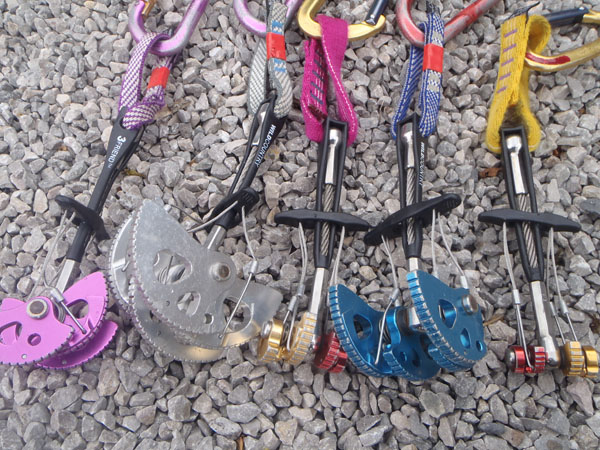 This qualification is all about supervising safe climbing and abseiling sessions on single pitch crags and artificial structures. Whether you're a parent, a volunteer or an outdoor centre instructor, the Rock Climbing Instructor qualification trains and assesses experienced rock climbers to instruct climbing.
This qualification used to be called Single Pitch Award which was revised following a review and re launched under this new name on 2nd April, 2018.
Is it for me?
The prerequisites for registration are as follows:
You must be at least 18 years old.
You should be an experienced indoor and outdoor rock climber.
You should have a genuine interest in climbing and the supervision of groups.
You must be a member of a mountaineering council: BMC, Mountaineering Scotland or Mountaineering Ireland
If you can tick all of the above boxes, here's what to do next:
Training
Before you book onto a Rock Climbing Instructor training course, make sure you have done the following:
You must be registered on the scheme.
You must have an up to date logbook, which lists your climbing and if any supervision (preferably DLOG) with evidence of the following:
15 led routes which must be graded rock climbs with traditional protection.
15 led routes at a climbing wall.
5 led routes which must be outdoor bolt protected sport climbs.
If you have not attended a climbing wall instructor (award) training or assessment course.
Rock Climbing Instructor training lasts for 3 days and will be run by one of our approved providers in the UK or Ireland.
If you have attended a Climbing Wall Instructor (Award) training or assessment course. Then the Rock Climbing Instructor training lasts for 2 days

A variety of cost packages are available depending on what's included; food, accommodation etc. so you can choose one that's right for you.
For four or more candidates courses can be arranged as and when requested.
Please call for details.
The Syllabus
Rock Climbing Instructors should be competent in the following key areas, all of which will be covered, to a greater or lesser extent, during your training course.
Technical Competence (including equipment, anchors, belaying, personal skills, abseiling, background knowledge).
Management and Decision Making (including planning, organising, managing other staff, managing participants, knowledge and demonstration of techniques).
Teaching Skills
The Climbing Environment (including access, conservation, etiquette and ethics).
Detailed information on each of the above topics can be found in the Rock Climbing Instructor handbook (which is currently being developed) and the onus is on you to be competent in all of them by the time you come to assessment - use the Skills Checklist below to help with this.
Consolidation
The period between training and assessment varies in length for each person and is an opportunity to develop your skills, paying particular attention to any weaknesses identified during the training course. So go climbing and use your enthusiasm to hone your skills for as long as you like.
Assessment
Before you attend a Rock Climbing Instructor assessment, make sure you have done the following:
You must have attended a Rock Climbing Instructor (or Single Pitch Award) training course or been granted exemption from training.
You must be familiar with the syllabus.
You must be competently leading Severe grade climbs on outdoor crags with leader-placed protection.
You must have led a minimum of 40 graded rock climbs with traditional protection at a variety of venues (of which at least 20 MUST be at Severe grade or above).
You must be proficient in the use of climbing walls and have a minimum of 30 climbing wall leads graded at F4 or above.
You must be proficient in outdoor bolt protected sport climbing and have a minimum of 10 sport climb leads graded at F4 or above.
You must have assisted in the supervision of 20 instructed sessions. These sessions should be at a variety of different venues with 10 being on indoor climbing walls and the other 10 on outdoor crags. A session is a half day or evening. At least five of these sessions must have personal reflective comments recorded on DLOG.
You must hold a current first aid qualification which involved at least two days of training and an element of assessment.
The Rock Climbing Instructor assessment is 2 days long.
The Scope of the Scheme
A qualified instructor can:
Teach climbing skills.
Take people climbing, bouldering and abseiling.
Manage groups safely in these activities.
It is valid throughout the United Kingdom and Ireland and is recognised by the Adventure Activities Licensing Scheme.

For the purposes of this scheme, a single pitch route is one which:
is climbed without intermediate stances
is described as a single pitch in the guidebook
allows climbers to be lowered to the ground at all times
is non-tidal, non-serious and has little objective danger
presents no difficulties on approach or retreat, such as route finding, scrambling or navigating.
It will be the responsibility of the employer or organising authority to develop management strategies for the employment of award holders outwith this remit.

If you are in doubt about a particular venue then the officers of Mountain Training, Mountaineering Instructors or members of the British Mountain Guides association are the appropriate people to approach for advice.

It is the duty of the employer or organising authority to decide whether a leader possesses the personal attributes needed to take responsibility for the care of young people and beginners. It is the combination of technical skills, wide experience and personal qualities that forms the basis for effective supervision. This scheme assesses the technical skills and experience; the employer or organising authority must gauge the personal qualities.

The scheme does not cover:
general mountaineering skills, such as those needed to approach and return from remote mountain and moorland crags
multi-pitch rock climbing skills, the teaching or supervision of leading, (these are covered by the Mountaineering Instructor Scheme)
access to tidal sea cliffs or any other location where escape is not easily possible
the gauging of a candidate's personal qualities
Mountain Training Rock Climbing Instructor Award Training 3 Days Course Dates
Dates TBA By arrangement for 4 or more


Mountain Training Rock Climbing Instructor Award Training 2 Days (Outdoor Only) Course Dates
Dates TBA By arrangement for 4 or more


Mountain Training Rock Climbing Instructor Award Assessment Course Dates
Dates TBA By arrangement for 2 or more


ROCK CLIMBING INSTRUCTOR CANDIDATE HANDBOOK (pdf)
BMC Helmet Guide (pdf)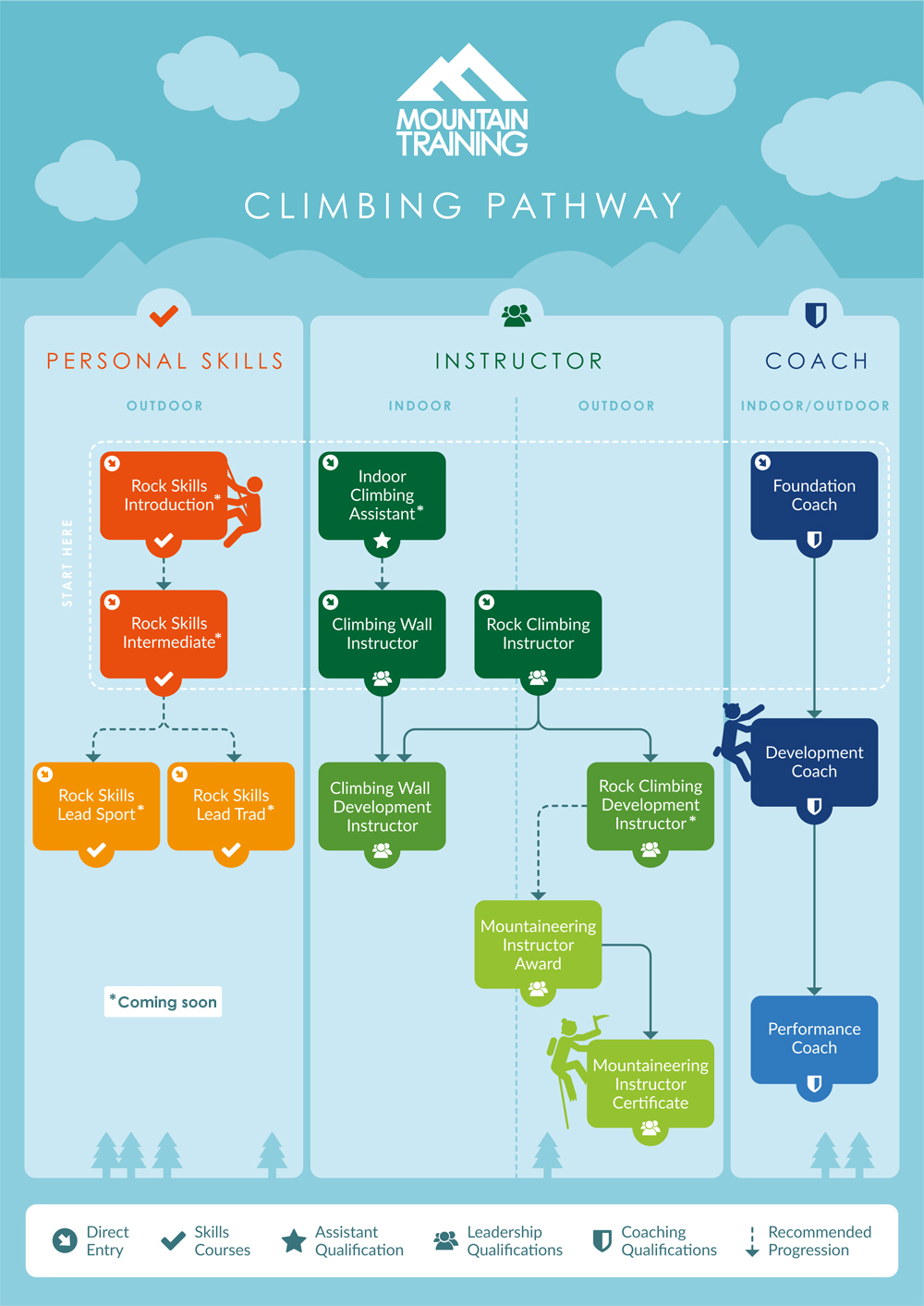 Download infographic (jpg)