The Mountain Leader Award in Brief
The Mountain Training award is for those who wish to lead a group of hill walkers anywhere in the UK under summer conditions.
You will learn such skills as group management, navigation, emergency procedures and equipment, access & conservation and security on steep ground.
ML training courses are run over six consecutive days or a series of weekends two x three days. ML assessment courses are run over 6 days, either in a single block or in two three-day blocks.
Before you register make sure you can answer yes to the following questions:
Are you at least 18 years old?
Do you have a genuine interest in leading groups?
Do you have at least 12 months hill walking experience?
Mountain Leader Award - Further Information
The mountains of the UK are remote, technical and exposed to harsh and unpredictable weather. This makes them a hazardous place for a group of novice mountain walkers unless they have the benefit of supervision by a well trained and experienced leader. During Mountain Leader Award courses you will develop group management skills, the ability to navigate in all conditions, gain an understanding of how to deal with mountain hazards and increase your awareness of environmental issues. There is also an expedition element to the syllabus.
Before undertaking the ML training course you need to have a minimum of 12 months mountain walking experience and have logged at least 20 quality mountain day walks. In addition to this personal experience, you should have an interest in leading groups in the mountains of the UK in summer conditions. You may register with the ML scheme before you have completed 20 mountain days, but you must fulfil this requirement before attending a training course.
Candidates must have completed a minimum of 40 quality mountain days and have logged some leadership experience when they attend an assessment.
Registration
You must register before booking onto a training course. To register you must meet the pre-requirements of 12 months mountain walking experience and be a minimum of 18 years old and a member of a Mountaineering Council.
Training
Before attending a training course you should have logged a minimum of 20 mountain walks. Training courses are usually run over 6 days with a minimum of 60 hours contact time - either consecutive days or over a series of weekends and evenings. Providers run courses throughout the mountain areas of the UK at most times of year. If you have an exceptionally high level of experience you may be granted exemption from the training course and proceed directly to assessment. To do this you must first register and tick the exemption application request box on the registration form. Then submit the exemption application form together with a copy of your completed logbook and the appropriate fee.
Consolidation
After you have attended a training course you will need to complete a consolidation period. The exact period of time, personal skill development and group supervision practice will be different for each candidate. At the end of your training course you will agree a personal action plan with your Course Director which will guide you through the consolidation phase.
Assessment
Your assessor will ask to see your logbook when you book on the course to check you have completed the ML training course (or successfully gained exemption from training), satisfied the pre-assessment experience requirements and have a current First Aid certificate. Assessments are 6 days long and either continuous or split into two three day elements.
Quality Mountain Days
In terms of experience, the quality of a mountain day lies in such things as the conditions experienced both overhead and underfoot, the exploration of new areas, the terrain covered and the physical and mental challenge. Such days make a positive contribution towards a person's development and maturity as an all round mountaineer.
Usually some or all of these criteria would be fulfilled:
the individual takes part in the planning and leadership
navigation skills are required away from marked paths
experience must be in terrain and weather comparable to that found in UK and Irish hills
knowledge is increased and skills practiced
attention is paid to safety
five hours or more journey time
adverse conditions may be encountered
Mountain Training Summer Mountain Leader Award ML Syllabus pdf
BMC Tick Warning information leaflet pdf
MCS Wild camping information leaflet pdf
Camping in Scotland leaflet pdf
Mountain Training Summer Mountain Leader Training Split Course Dates
Dates TBA

Mountain Training Summer Mountain Leader Assessment Spilt Course Dates
Dates TBA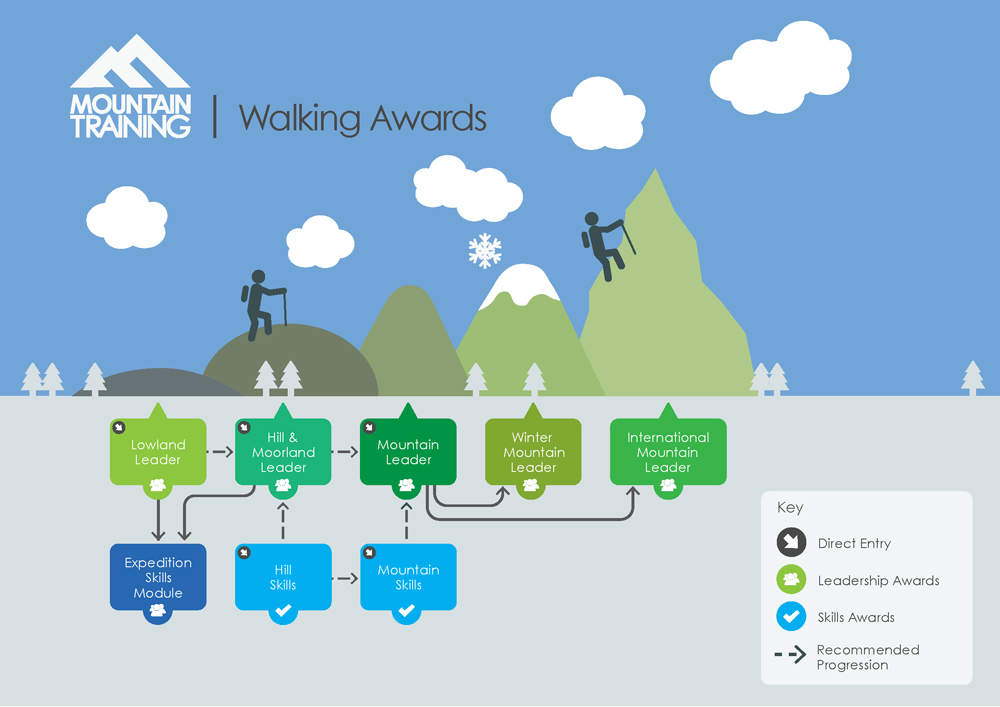 Download infographic (jpg)