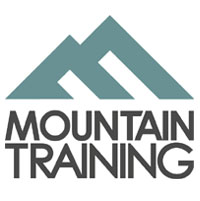 The Awards administered by Mountain Training are designed to give sound, quality training to those working in either a voluntary or professional capacity in the mountain and crag environments of the UK. For all of the awards there is an assumption of personal experience and competence on the part of the candidate prior to attendance on a training course, when the skills of leadership and party care are covered. For candidates with exceptional levels of personal and leadership experience there is a process whereby the training course can be waived through formal application to the Board. All candidates, however, must be registered with the appropriate scheme prior to attendance on a course.
Upon successful completion of an assessment course the candidate will be presented with a Pass page by the Director of Assessment and a verifying sticker attached to the personal endorsement page. Subsequently Mountain Training will issue a confirmation of pass page to indicate the receipt of the course report and the entry of the pass on the central database. It is the responsibility of the candidate to subsequently maintain currency in the activities covered by their awards and also to maintain appropriate First Aid certification. Employers are encouraged to examine the experience of a presenting candidate to ensure currency and not simply the pass page issued.
Those who have completed one of the awards administered by Mountain Training are considered competent to operate within the relevant remit in terms of terrain and activity and also competent to determine the safety and appropriateness of activities within that remit (see other pages on this site for the remits of specific awards). Mountain Training is happy to advise upon the boundaries of the awards and their application but does not seek to impose restrictions or regulations upon those undertaking activities in the hills.